A Leader Focused On Your Measured Results
Born: 1973 (in Tampa, Florida)
Hometown: Brandon, Florida
Education: Bachelor of Arts Florida Southern College; Lakeland, Florida – Class of 1995
Interests: Soccer (Football), Craft Beer, Traveling, Music, and of course the Internet.
Qualifications: Google Analytics Qualified Individual, Google Adwords Qualified Individual
Kevin Alvarez is the Chief Marketing Strategist, President and Founder of Blue Lynx Marketing Inc., a full service marketing agency.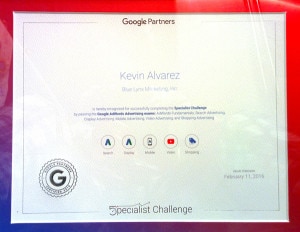 In February of 2016, Kevin received the "Google 5pecialist" certificate from Google Partners.  The certification was only awarded to online marketing specialists who were able to hold all 5 AdWords specialization certifications simultaneously (Search, Display, YouTube, Mobile and Shopping).  He also held a certification for Google Analytics during this time.
Kevin's specialty is focusing on measurable results that improve a company's bottom line. His passion is in highly trackable internet marketing campaigns that combine creativity, strategy and analysis. His marketing firm is an approved Google Partner Agency. He is also a PRO Member of SEOMoz and believes in the importance of continual education. Kevin believes in making the web a better place and that starts with helping companies to develop user friendly websites filled with good quality content and using white-hat marketing techniques.
In addition to his Google certifications, Kevin has also has received an Inbound Marketing Certification from the Hubspot Academy.
Kevin grew up with an entrepreneurial spirit that he inherited from his father. His first taste of business came in the 6th grade, when he sold out his hand drawn comic books in one day. Since then, Kevin has been a serial entrepreneur and ran an energy efficient lighting manufacturing company from 1998-2006. He shares his entrepreneurial spirit with the clients he works with and is passionate with helping small businesses and start-ups build their organizations using effective "white hat" marketing methods.
In his spare time, Kevin loves to make and drink craft beer, watch soccer, research the stock market and read classic advertising books including: "The Robert Collier Letter Book", "Confessions of an Advertising Man" and "Scientific Advertising".